This recipe is so delicious. The tomato sauce is has a great smokey flavour and is perfect for the cooling weather. It makes an inexpensive meal, and the sauce can be made ahead, as it freezes well – so make a big batch and add the prawns when you're ready to eat it!
You can also substitute the prawns for chicken or tofu.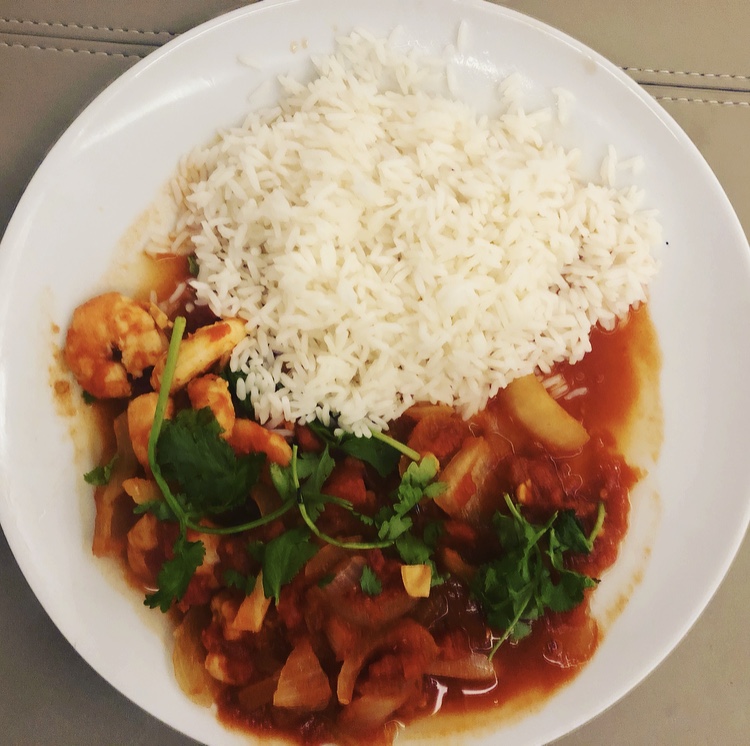 Serves 2
Ingredients
3 tbsp Olive oil
400g raw prawns (peeled)
2 tins of chopped tomatoes
1 onion, chopped 
2 garlic, crushed 
2 heaped tsp smoked paprika
2 tbsp red wine vinegar
Salt and pepper to taste
To serve:
Fresh coriander
Green chilli, sliced
Steamed rice 
Method:
In a large pot, heat the olive oil and cook the onion for 10 mins until soft (but not browned). Add the garlic & paprika and cook for another 3-4mins. 
Then add the tomatoes and vinegar. Bring to the boil and then reduce the heat and simmer for 20 mins, stirring occasionally. 
Add the prawns, they only need 3-5 minutes. 
Garnish with coriander and chilli and serve with rice!