Everybody loves a burger, and these are no exception.
The flavours from the cumin and turmeric have added health benefits, as well as given these patties a fab colour.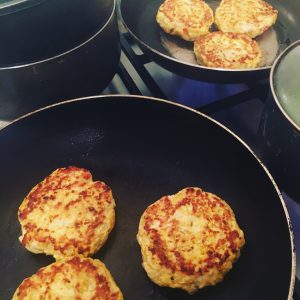 Serves 2
Ingredients:
250g chicken or turkey mince
Juice from 1 lime
1 1/2 teaspoon ground cumin seeds
1 teaspoon turmeric
1 tbsp dijon mustard
Dried chilli – to taste
Black pepper and salt – to taste
Coconut oil or extra virgin olive oil
Method:
Combine all the ingredients, except for the oil, in a bowl and mix together until all the spices are evenly distributed.
Form into patties and use your hands to flatten them down – they cook quicker this way!
Heat a frying pan with your choice of oil. when the pan is super hot, ad the patties and flip when you can see the edges start to go golden.
Serve up with burger classics like sweet potato fries, guacamole and portobello mushrooms. Yum!