This latest banana bread recipe (I love a banana bread, okay?) was made for snacking on at my recent "How to Kick Your Sugar Habit" event, and it went down a treat.
We often associate cutting back on sugar deprivation and restriction, but recipes likes these prove that going sugar-free can be hearty, wholesome, as well as being good for the body.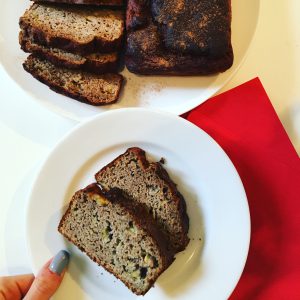 The ripe bananas provide the only sugar here, and the rest of the sweetness and flavour comes from the chai flavoured spices, like metabolism-boosting cinnamon. 
Full of healthy fats, complex carbs and protein, this is a great snack or breakfast with a spread of butter. Yum. 
Ingredients 
1/2c buckwheat flour
1/2c ground almonds
1 1/2 tsp bicarbonate soda
2 tsp cinnamon
1 tsp ground ginger 
1 tsp all spice
1/2 tsp nutmeg
1 tsp vanilla essence 
2 eggs
1/2 c melted coconut oil
4 very ripe bananas 
Method
Preheat oven to 180. 
In a small bowl, whisk the eggs, coconut oil and mashed bananas until combined. 
In a separate bowl, add the rest of the ingredients and mix together. Pour the egg mixture into the bowl and stir/whisk/food process until combined. 
Pour into a loaf tin and bake for 45 mins. 
Slice up and enjoy!