This Greek inspired dish is simple and easy to make, and ace for barbecue season. Pair with a refreshing tsatziki dip and sweet potato wedges for a perfect summer dish.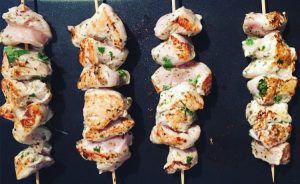 Ingredients
2 chicken breasts cut into cubes or strips
4 bamboo or metal skewers
Marinade
Juice of one lemon
2 tbsp olive oil
1 tbsp vinegar
2 tbsp fresh coriander
1 tbsp dried parsley
1 tbsp dried oregano
Salt and pepper to taste
Tsatziki
150g Greek yogurt
1/4 Cucumber, finely diced
2tbsp fresh Mint, chopped
Juice of 1 lemon
1 tbsp Olive oil
Method
If using wooden skewers, soak in water for 30 mins so they don't burn on the grill!
Combine the marinade ingredients in a flat dish or bowl and add the chicken, making sure the chicken is coated. Let it marinate between 30-60mins.
In the meantime, combine the ingredients to make the tsatziki dip.
Heat up the grill or barbecue and thread the chicken onto the skewers.
Grill for 3-5 minutes each side until cooked through.
Serve with the fresh tsatsiki, with some sweet potato wedges for dipping.